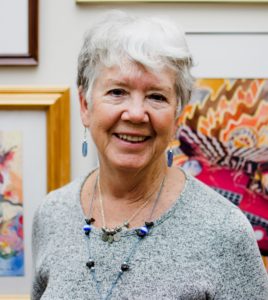 October 10-November 2, your eyes will be delighted with the many styles of watercolor and mixed media paintings by Mary Conly, which on display in the Winer Family Community Center & Art Gallery.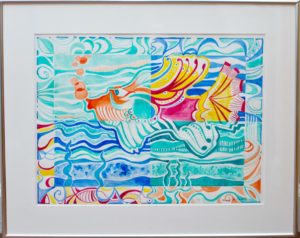 Conly started drawing on the back of Cheerios boxes when she was four.  By the age of seven, she could draw a perfect Bugs Bunny.  Her artistic parents encouraged her, but Mary did not think of herself as an artist; instead, she studied French and Italian literature. Following her retirement, Mary tried a watercolor class and loved it.  That led to her studying oil and acrylic painting plus batik and collage art with Marie Wordell, a well-known East County art teacher.  Conly admits to enjoying all forms of art, including sewing and ceramics.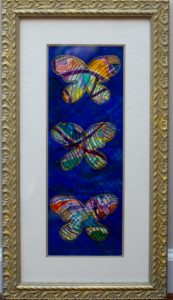 You might remember the October, 2016, La Mesa  Courier article by its Editor, Jeff Clemetson, describing how Conly gathered up a group of volunteers  and transformed a two-block long portion of graffiti-ridden sidewalk near Maryland Elementary in La Mesa, to a brightly colored river of art.
Come meet Mary, this super fun, talented artist, at her Artist Reception, Saturday, October 21, noon-2:00 p.m.  Click on October Artist